Being a DJ and producer for over 25 years I wanted to dig deeper into the evolution of partying and more specifically, raving. Festivals and Raves seem to be the thing to do in the new millennium and I'm curious to find out why.  A festival is an event ordinarily celebrated by a community and centering on some characteristic aspect of that community and its cultures. Many raves and festivals date back to ancient times in African and France when a royal holiday was announced.
Many people believe the rave culture started in Europe or California. So which is the right answer? Europe or California? There are several myths floating around on where and how the rave culture got started. The term Rave, however, was coined back in the 1950s and '60s by American Musicians like Buddy Holly to describe a wild party and wasn't associated with electronic music or digital music yet.
Back in the '60s, a band called Pink Floyd was credited with having the first signs of electronic music and rave light shows where they would take acid and play mesmerizing music with extravagant light shows hosting large audiences. Pink Floyd was an English rock band formed in London in 1965. They achieved international acclaim with their progressive and psychedelic music.
Sometimes these festivals would last for a few days like Woodstock that was a music concert drawing over 500,000 thousand people from all over the world to the Catskill Mountains, northwest of New York City, between August 15–18, 1969. Although the extravagant light shows didn't exist back then Woodstock was the first sign of an organized festival that lasted more than a few days. Outdoor raves like wood stock and lasted through the 1960s when people were introduced to psychedelic drugs and free-spirited music but as the 60s came to a close the world was changing and the 70s brought a new vibe and they would take it back to the dance clubs and huge raves seemed to cool off in America.
The Stonehenge Free Festival was a British free festival from 1974 to 1984 held at the prehistoric monument Stonehenge in England during the month of June, and culminating with the summer solstice on or near June 21. It emerged as the major free festival in the calendar after the violent suppression of the Windsor Free Festival.
​​​​​​​
In the late 1970s, a dance arena called Studio 57 sat in the heart of New York City and opened up its doors to a new bread of party goers that were into doing cocaine and dancing the night away to electronic beats and disco bands. It was started in the basement of the Holy Cross Polish National Church on St. Mark's. Ann Magnuson, who managed the club and hosted events, described it as home to "pointy-toed hipsters, girls in rockabilly petticoats, spandex pants, and thrift-store stiletto heels...suburban refugees who had run away from home to find a new family...and where into music like Devo a semi-electronic sounding band in the late 70s. Dany Johnson was the resident DJ of the club. Guest DJs included Afrika Bambaataa from the Bronx, who is credited with bringing the electronic dance sound to the mainstream and is also credited as the father of Hip-Hop but also influenced EDM music all over the world. 
By the time Studio 54 had reopened and the Stone Henge festival was shut down, music, drugs, and dancing had change altogether and the music was more electronic than ever especially with groups like parliament who performed with huge 20 piece bands. The old disco sound faded away leaving room for new sounds coming out of Chicago's Southside and that sound was called Acid House Music. House Music was developed in a club called The Warehouse in the late '70s. The style was defined primarily by the deep bass lines and "squelching" sounds of the Roland TB-303 electronic synthesizer-sequencer.  Acid house spread to the United Kingdom and continental Europe, where it was played by DJs in the acid house and later rave scenes. By the late 1980s, acid house had moved into the British mainstream, where it had some influence on pop and dance styles.
Medusa's, a Chicago teen club that opened after the Warehouse closed, inspired an entire generation of dance music producers, from mainstream figures like Tommie Sunshine and Kaskade to underground artists like Hieroglyphic Being. It was a place where leather-clad industrial music fans rubbed shoulders with preppie house music jackers, shaping both genres in the process. Some accounts say the reference to "acid" may be a celebratory reference to psychedelic drugs in general, such as LSD, as well as the popular club drug Ecstasy. According to Rietveld, it was the house sensibility of Chicago, in a club like Hardy's The Music Box, that afforded it its initial meaning.
1987 Teen Club Electric Avenue in Orlando Florida is renamed Visage and begins serving alcohol, soon hosts national acts like Love and Rockets, the Ramones and more. 1988 According to a 1988 story in Orlando Weekly, DJ Kimball Collins discovers an acid-house night happening at the old Beacham Theater in Orlando and before long, he morphs it into AAHZ, the legendary house-music dance party that attracts people from all over Florida and turns Orlando into an epicenter for club culture.
By the 1990s raving was well on its way to becoming a national and worldwide culture. Many laws started popping up to halt raves because raves were free and wilder than ever with no policing.  In the spring of 1992, The Castlemorton Common Festival was a week-long free festival and rave held in the Malvern Hills near Malvern, Worcestershire, England but was shut down by the police.
During 1993, The Orange County Convention Center is home to a massive rave called Infinite, which would return to the venue for three consecutive years and The Dust Brothers (later known as the Chemical Brothers) headline a massive rave at the Edge Nightclub in downtown Orlando, giving birth to an electronic dance music scene that would eventually sweep the nation. After it closed its doors. By mid-1990s acid house and raving were taking on a new form in America were candy girls dressed in bright clothing and stripper like costumes in a well know Florida club called Firestone.
In 1993 just after the Windsor Free Festival was shut down, the Florida building changed from a Firestone Tires store to a nightclub. Briefly a gay club, it became a hot spot for Rave culture and Trap Music culture in the 1990s. After being called Club Firestone and Firestone Live, the name was changed to Venue 578 in October 2014. When I had visited Firestone in 1994 it was nothing like I had ever seen and I had been deejaying for some time. It was the first look at the new fashion and culture revolution that we call EDC now where candy girls wore extravagant fluorescent outfits and ecstasy (Molly or MDMA) was growing rapidly all over the state Florida.  In Florida, Ravers took to the beach to party all day because there weren't venues big enough to host thousands of Ravers who wanted their breakbeats and bass.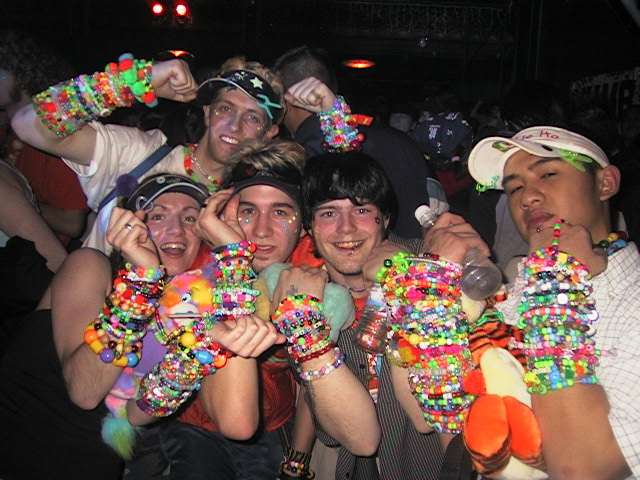 Though the drug culture of raves has died down tremendously, Ecstasy did not start in the rave scene and is not actually part of the race culture. German chemists originally synthesized MDMA, or ecstasy, for pharmaceutical purposes in 1912. During the Cold War, the CIA Experimented with MDMA as a psychological weapon. By the late 1980s, Ecstasy had become a very popular party drug.
In the new millennium festivals like EDC, Coachella, Splendour in the Grass. and Ulta Music Fest is less about the music and drugs and more about the Light shows, costumes, fashion, nature, and money. The ticket prices in 10 years have skyrocketed leaving the middle-class party goers to take a seat and bring in a wealthier crowd.
These events have now become a touring show performing in several cities like Orlando, Las Vegas and Europe. One of the reasons for the big change in how events are handled was people were dying at these festivals overdosing on Molly and not staying hydrated in the hot sun. In 2010 Electric Daisy Concert faded away a bit losing it's flame due to age restriction when a 15-year-old girl who attended the concert later died as a result of an overdose of MDMA. Additionally, more than 100 attendees were sent to hospitals.  Numerous efforts were made to convince L.A. officials that dance events were safe. Insomniac established an 18-and-over policy for all its events and pledged to have more medical staff on site. Dance promoters, who were not named, even funded a card distributed by the county's Department of Public Health to warn concertgoers of the dangers of Ecstasy.
Despite the legacy that raving and festivals are only for drugs, many people think festivals are a way to release energy in a positive way.  Since the beginning of humanity, festivals have been here and they aren't going anywhere. We no lots about past festivals nut who knows will the party will take you in 100 years. Could we be on the way to a one world festival that's more tremendous than Woodstock? Who knows! Maybe one day we will be partying in space.