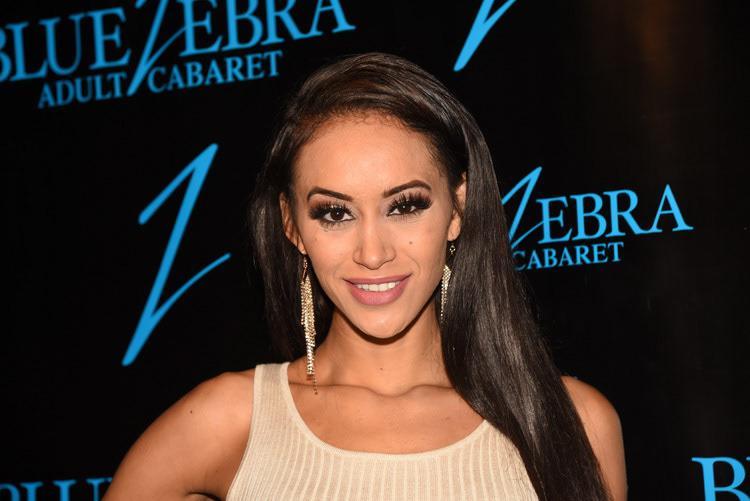 CROWDS GATHERED QUICKLY AND THE PLACE WAS PACKED TO SEE THIS SEXY EVENT. THE HOT REFEREE FOR THIS MADNESS WAS PLAYBOY MODEL GIANA "STILTZ" TAYLOR WHO ALSO APPEARED ON A POPULAR VH1 REALITY SERIES.
THE SWINGING EVENT AUDIENCE INCLUDED ADULT STAR "BLATEN LEE'S" BIRTHDAY BASH WHICH BROUGHT OUT OTHER CELEBS IN ATTENDANCE LIKE KITTEN LUNA LEVE, AUTHOR SUAVE XXX, ADULT PERFORMER GIA VENDETTI, ACTOR JOE REITMAN, AND XXX COMPANY SMASHED.
LET THE GAMES BEGIN
WITH A FULL HOUSE, THE CROWD WAS ROARING TO SEE THE ACTION BEGIN WITH ITS FIRST MATCH OF THE NIGHT. D.C. NATIVE LONI LEGEND TOOK ON ZIGGY STAR IN THE DANCERS GRUDGE MATCH.  THESE TWO WERE EVENLY MATCH AND THE FIRST ROUND WAS A CLOSE CALL. WHEN THE PANTIES CAME OFF I KIND OF LOST TRACK OF WHO WAS WINNING BUT LET ME TELL YOU IT WAS THE WILDEST OIL WRESTLING I'VE SEEN IN MY LIFE. 
THE SECOND MATCH WAS NOTHING SHORT OF AMAZING WITH FETISH MODEL SINGER | SONGWRITER "MAGICK" AGAINST VEGAS MODEL AND BIRTHDAY GIRL "NIKKI". THE CROWD CAME OUT OF THEIR SEAT WHEN THESE TWO GOT DOWN AND DIRTY, FLOOPYING AROUND NAKED IN A POOL OF HOT OIL WITH GREEN PAPER FLYING LIKE CONFETTI! YES! STACKS OF MONEY WHERE FALLING FROM THE SKY LIKE RAINDROPS IN MISSISSIPPI! NEVER ENDING! 
THE LAST MATCH OF THE NIGHT CAME AT A BIDDING WAR. THE LATE NIGHT "BIDDER" MATCH WITH FIRST CLASS ENTERTAINMENT'S VIP DANCER "SAPPHIRE" WENT TO THE HIGHEST BIDDER IN THE BUILDING! TO MY SURPRISE IT WAS AN UNEXPECTED UPSET WITH SAPPHIRE DOMINATING HER MANLY APPOINTMENT AND SEALING HER WIN BY PINNING HIM DOWN ON HIS BACK FORCING HIM TO TAPPED OUT.  SHE WAS CONGRATULATED WITH PILES OF DOLLA BILLS AND TAKEN CARE OF BY ADULT STARS SLIM POLE, RAY BLACK, LILI D, ROD JACKSON. 
BE A PART OF THE EXPERIENCE! VISIT OR CONTACT 
SPECIAL THANKS TO
DISTRICT MANAGER "CELO" GM "NATE" AND CONSULTING DIRECTOR "CORNELIS"
SHOUT OUT TO THE INCREDIBLE BLUE ZEBRA DANCERS AND FRIENDLY STAFF.